Surroundings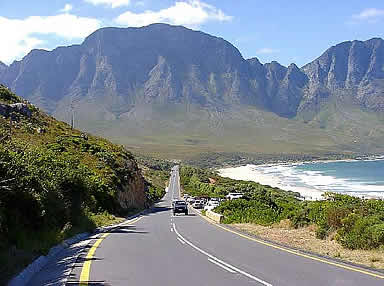 Stellenbosch
Its special planting of trees gave Stellenbosch the name "Oak town". It is the second oldest town in South Africa and was founded in 1679 as a supply source for ships.
In 1710 many of its buildings burnt to the ground. The destroyed houses were rebuilt and the historical town centre has been well maintained since. Here you find the prettiest and oldest buildings in Stellenbosch, many of them classified as National Heritage sites. The beautiful Victoria University building, built in 1886, is also situated in the town centre. It is one of the most renowned universities of South Africa and has, among others, a faculty of viticulture.
The Stellenbosch environment, also called the Boland, includes a magnificent mountain chain with fertile valleys used for wine production. Within a radius of 12 km you will find 22 wine estates, many of which are still in the Cape Dutch style.
Franschhoek
The quiet and peaceful town of Franschhoek lies 25 km from Stellenbosch in a beautiful valley surrounded by rugged mountains.
Franschhoek was founded in 1688 as the "Le Quartier Francais" by the Huguenots who were forced to flee France.
They found a climate similar to their home country. Being skilled wine growers, they stayed and started to plant vines. Franschhoek wines have since become known all over the world.
The Huguenots also brought French cuisine to the Cape, which is why Franschhoek restaurants enjoy an excellent reputation.
There is no other place in South Africa that offers so many top restaurants in such a small area as Franschhoek.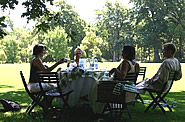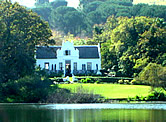 Paarl
With more than 50 000 residents Paarl is the largest town in the wine region, situated on the banks of the Berg River between impressive mountains. In the center of town you will find numerous historical buildings and oak-lined streets.
The name is derived from the massive rock above the town, the Paarl Rock, which after rainfall, shines like a pearl when the sun shines on it from a certain angle.
As Paarl has a good climate and very fertile soils the first Huguenots, who brought viticultural skills from France, settled here. Today many French names remind us of the Huguenots. The town is the center of the largest winegrowing region in the Cape.
Further information is available in the guesthouse and the rooms.